A Few Ideas for a Pergola
A pergola makes a striking accent to any landscaping theme; not only are they eye-catching, but functional as well. Depending on their size, pergolas often become an extension of the main home, and may be used for entertaining, dining, or as a getaway or quiet oasis for reading or enjoying morning coffee.
Pergolas are a shady, garden structure whose beginnings date back to ancient Egypt, Greece, Rome, and were common features in early Renaissance gardens throughout Europe.
Their primary purpose was to provide shade on walkways, terraces or pools. The earlier versions were often constructed from stone pillars with wooden cross-beams with a lattice roof.
It was common to see ivy, grapevines or other climbing plants winding around the wood and filling the open spaces between the lattices. Today they are often constructed from pressure-treated wood or cedar.
The many varieties of maintenance-free lumber products are also widely used. They give the look of wood, but never need painting, resist rot, peeling, fading and are available in a variety of colors.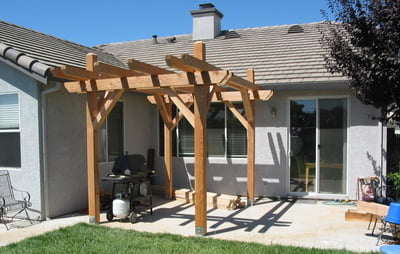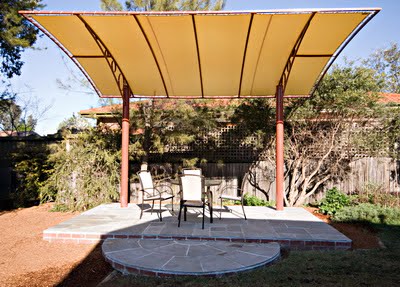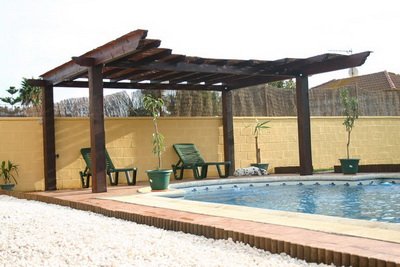 Ideas for Pergolas:
1. The most common version is a simple post construction with wood cross-pieces or lattices for the roof and used to cover a deck or patio. It can be painted or stained and accented with lighting, plants and other accessories.
2. Install your pergola along the entire length of the house, similar to an awning. It can extend out farther at different points to create interest and seating areas underneath.
3. Use it to cover a hot tub.
4. Place in a random area of the yard to create a shady spot to escape from the afternoon sun. Add a nice little bench and plant climbing roses or other scented vines nearby. Cover it with tin or shingles, to create extra coverage.
5. Create road appeal by placing your pergola over a front porch in place of a standard roof. Paint or stain it the same color as your shutters or house trim. It won't entirely keep out the rain, but it will provide a certain amount of shelter and create an impressive entrance.
6. Instead of the standard lattice look on the roof, use strips of bamboo placed side by side. It creates additional shade and gives the structure a twig furniture look.
7. Your pergola is the perfect place to let those showy vines grow wild; creating a thick natural canopy. Vines that work well include Hops, Wisteria, Jade, Grapes, Morning Glory, Cypress and many varieties of climbing roses. It's also a great place to grow vegetables such as peas or Scarlett Runner Beans.
8. Give your pergola some style by adding architectural accents such as a curved top, cylindrical wooden column supports or design a top that flows with the roof lines of your house.
9. Dress up the open sides with outdoor fabric curtains, bamboo shades or a manicured Boxwood hedge.
10. Use your pergola to create a garden filled with your favorite shade-loving plants. You may want to try Hostas, Bleeding Hearts, Yellow Corydalis, Bigroot Geranium, Monkshood or Lungwort.
11. Give your pergola a rustic look by using rough logs and unstained beams. Weave willow or alder twigs in the roof and display your twig furniture below.
12. A pergola is the perfect place for that hanging swing, chair or hammock. Add a small table, a cool drink, a good book and you've got the perfect recipe for a lazy afternoon.